World-Class engineering at China prices

If you are looking for high quality metal and plastic engineering services, you have come to the right place. ChinaSavvy, based in Guangzhou, China, and boasting with offices in the U.K and USA, is a quality engineering company specializing in industrial offshore manufacturing in China at affordable prices.
Western owned and adhering to strict ISO 9001:2008 standards, ChinaSavvy is one of the top engineering companies active within the industry today, working with a wide variety of manufacturers in China to deliver the best product at affordable prices.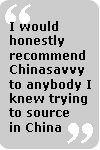 Over the past years there has been a staggering rise in Chinese imports all over the world, particularly in Europe, The U.S and Australia.
This rise in imports are not just attributed to China's low labor costs. The reason behind China's domination of manufacturing and engineering boom, is because of its incredible manufacturing supply chain and infrastructure, coupled with low labor costs.
Today, there is no other country in the world with such extensive capabilities as Chinese engineering companies, with suppliers in virtually every process and technical capability.
The problem however is this - China's rise in becoming this unsurpassable force, only started 50 years ago. Although factories are bursting with the newest technologies and high tech manufacturing equipment from Germany, the U.S and Japan, a full understanding of Western quality is not present.
Capable of producing world class products and delivering high quality engineering services, the guidance and understanding of what Western customers, in terms of quality, are looking for, is not yet fully developed.
This is where ChinaSavvy comes in.
A number of blue-chip companies from the UK, Europe, USA and Australia, to name but a few, choose ChinaSavvy for their top priority engineering and manufacturing projects. Our team, based in the heart of industrial China, provides the quality engineering security Western firms rely on.
Some of our industrial casting services include:
- Investment Casting
- Sand Casting
- Permanent Mold Casting
- Die Casting , and more
We also offer the following services:
- CNC Precision Machining
- Aluminum Fabrication
- Powder Coating, and more
Visit our Industrial Pagefor more information on our wide selection of high quality services and specialties.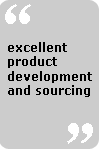 10 Reasons you should choose ChinaSavvy
• ChinaSavvy has 16 years' experience in both sub-contract manufacturing in China, as well as sourcing high quality products in China.
• An estimated 38% of all exports from China come from a 200 mile radius of our operational headquarters in Guangzhou. We are in the heart of Industrial China, giving as the advantage of a close proximity to the Pearl River Delta.
• Qualified and highly experienced Western managers lead our engineering and quality control staff, ensuring only the best products are exported.
• We go to great lengths to ensure only the best and most reliable product suppliers in China is added to our approved supplier database. Each and every manufacturer added to our database is audited and we do not simply add manufacturers in China to our list because they are in a sourcing directory.
• ChinaSavvy is an accredited ISO 9001-2008 company and undergoes strenuous audits on a yearly basis from both US and UK accreditation organizations.
• Our Quality Assurance system is both bilingual and online, providing information to both our customer and supplier.
• ChinaSavvy is a bilingual company, negotiating in Mandarin so that our customers receive only the best quality and prices. Our staff is highly trained and 95% is bilingual (English and Mandarin), while some speak between 3 and 4 local languages – a useful skill seeing as there are over 40 different dialects in China.
• We have our own assembly operation located in nearby Dongguan.
• As an engineering company, we strive for quality and excellence. We realize that, even if your China sourcing costs are inexpensive, the benefits of this are completely lost if your product cannot be sold due to poor quality. Our system for Quality Control and Assurance is advanced and a system you can fully rely on.
• We work with you, the customer, to supply you with the most up-to-date information regarding your orders, using various methods such as weekly timeline reportsand deliver only the best engineering services.



ESSENTIAL TOOLS
from the China buyers'
toolbox
CHINASAVVY IN THE MEDIA
What the papers say
Chinasavvy HK Ltd
551 Turner Street
Auburn, Maine 04210, USA
Chinasavvy HK Ltd
400 Wuzi Building
Beijiaochang Henglu 12
Guangzhou 510050
P R China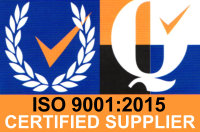 RAPID PROTOTYPING
Product development and prototyping in metals and plastics. 
YOUR QUALITY
IS OUR PRIORTY 


METALS & PLASTICS 
COMMODITIES 

daily prices  
videos
See videos of all the major processes we work in.  Click VIDEO to view videos:
Investment casting:

Sand casting:

Diecasting:

Permanent mold gravity casting:

Lost foam casting:

CNC laser cutting:

CNC bending:

CNC punching:

Aluminum extrusion:

CNC milling:

CNC lathe:

Robot welding:

Manual welding:

Powder coating:

Quality assurance: